Man Makes A Tiny Thanksgiving Dinner For His Hamster And It's Too Cute
If you are a subscriber to the HelloDenizen YouTube channel, you are probably familiar with their A Tiny Hamster Thanksgiving series. There is no shortage of episodes to watch and we are hopelessly infatuated with these little critters. We also love that each episode is a bite-sized watch. This particular episode is over in less than two minutes. It's kind of bittersweet, but it's still perfect.
If you didn't think that hamsters had the ability to come together like this, this is your chance to learn otherwise. Humans are not the only ones who love this time of year. Thanksgiving gives us all the opportunity to come together with the people who matter most. It's one of our favorite holidays for this reason (all of the eating doesn't hurt, though).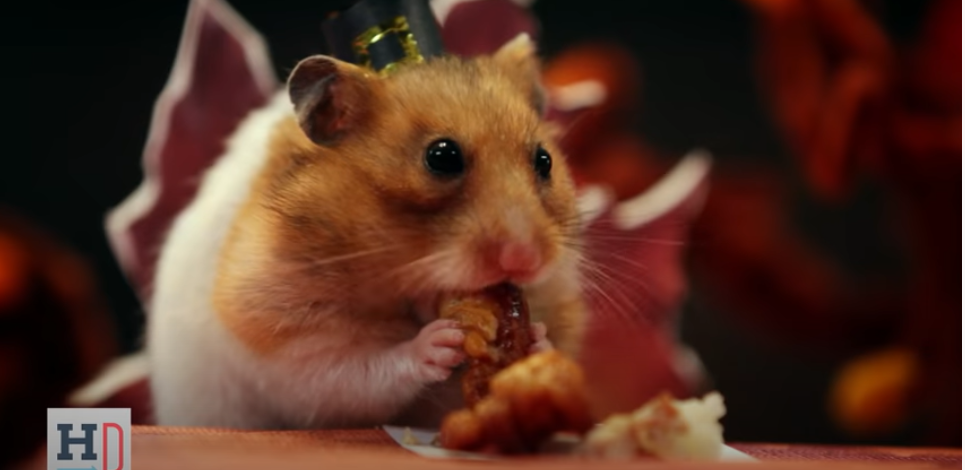 We do find ourselves wondering if hamsters go through all of the same issues that we do once dinner is over. Is there one hamster who doesn't get the hint that it is time to leave and ends up lingering for much longer than they actually should? Does one of them get a little too comfortable with a wine bottle? Maybe these are just problems at our house!
Article continues below
Our Featured Programs
See how we're making a difference for People, Pets, and the Planet and how you can get involved!
These little guys have a certain camaraderie that we are jealous of, and even share their meal with other species, like a rat and rabbit. Maybe it's the next stage of quarantine delirium, but we find ourselves wishing that we could be present at this gathering. This year, many of us are going to be having Zoom Thanksgiving celebrations and the joy that these hamsters share is much like the joy that we share with our own friends and loved ones.
If you will excuse us, we are going to go ahead and find our own set of hamsters now. We have been inspired to recreate these videos ourselves. While we are only half kidding here, we cannot wait to re-watch this series again and again. Surely, you will have the same experience! Happy holidays, everyone.
Help Rescue Animals
Provide food and vital supplies to shelter pets at The Animal Rescue Site for free! →
Whizzco