Owners Find Their Dog Lying In A Pool Of 'Blood' Only To Figure Out That It's Red Syrup
Dogs are wonderful pets and companions. But every so often they will give us quite the scare. When I was younger, my dog ended up getting herself locked inside the garage, and my mother and I had quite the fright thinking that she'd somehow gotten out of the yard. But perhaps the medal for best fright goes to the little corgi that led his owners to believe that he'd met a brutal end after getting into some red syrup.
The arable little pooch named Cartier lives in Ayutthaya, Thailand with his owners who own BLABLA-boo cafe. They shared the details of the scare on their Facebook page, including showing photos of the scene they stumbled upon. As they detailed out, they had been looking around for Cartier in order to take him for his daily walk. They were beginning to get a little worried that they weren't finding him anywhere.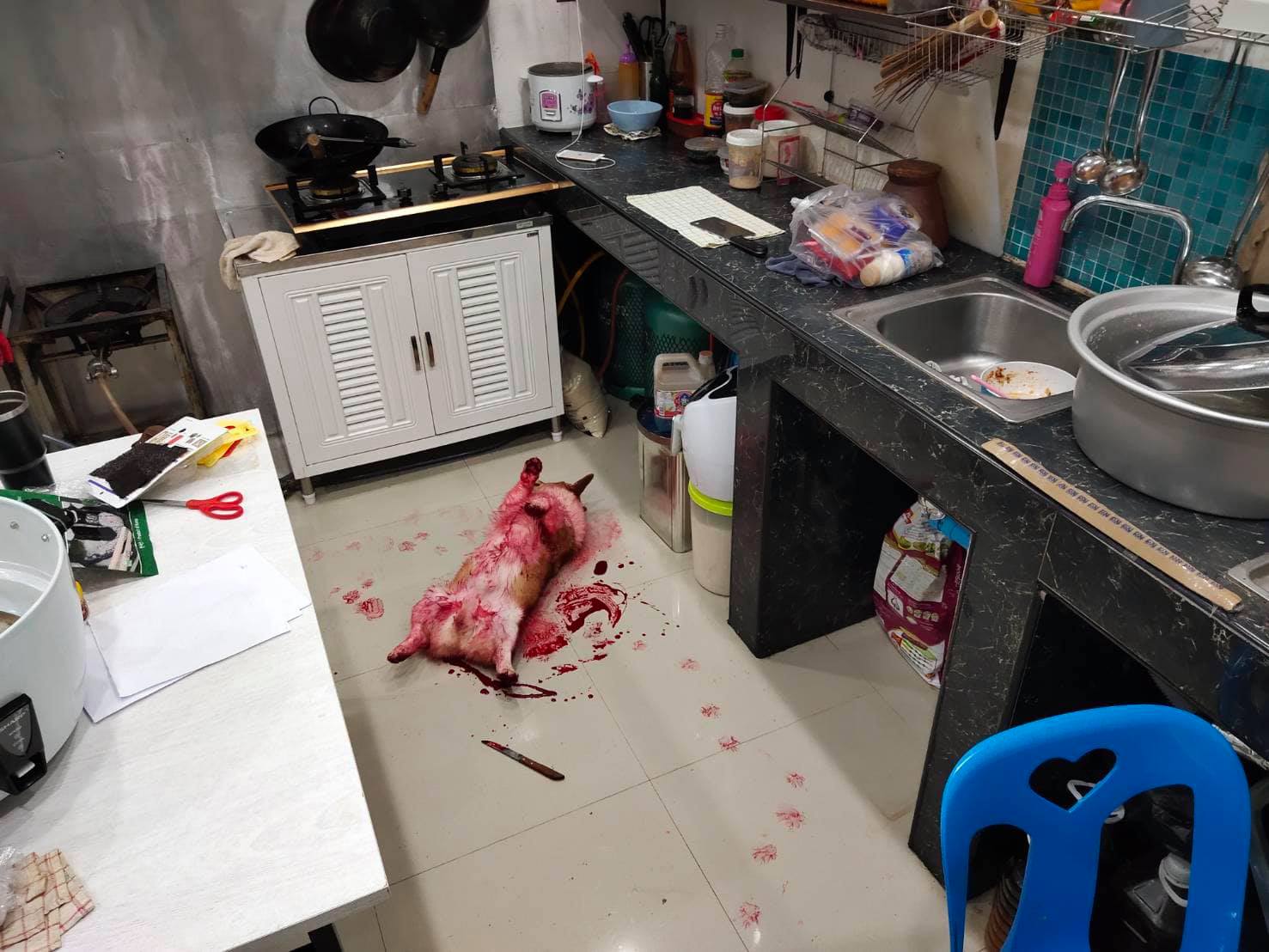 That is when they went to look for him in the kitchen and were surprised to find him laying down in what they believed to be a pool of blood. There was even a "bloody" knife beside the pooch who was on his back with his paws in the air. And there was "blood" everywhere.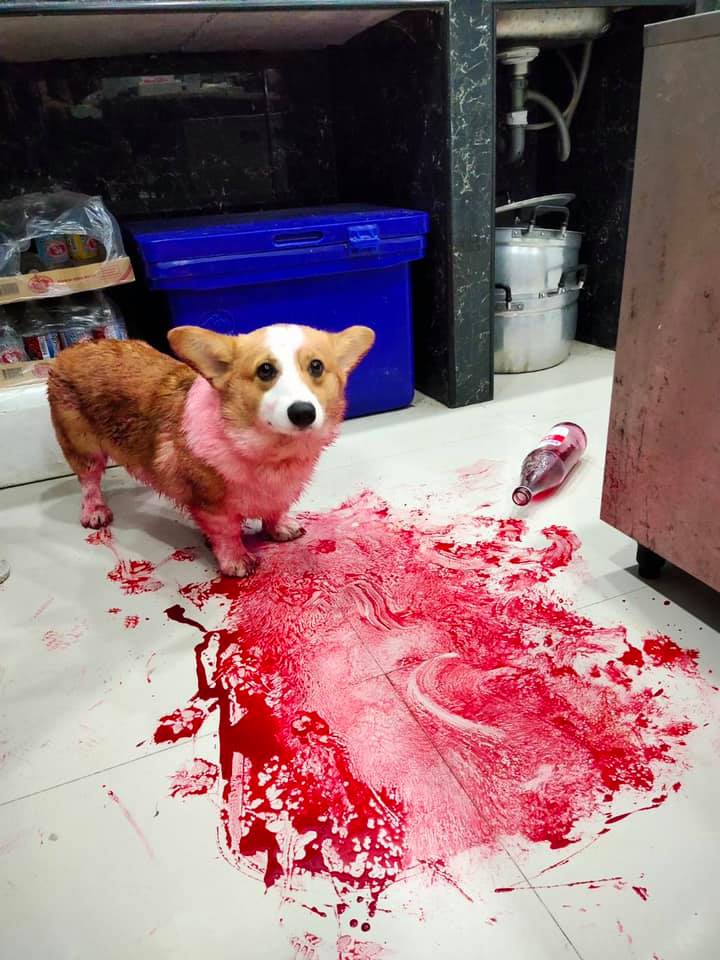 Naturally, they freaked out when they saw the scene, but their fear soon turned to relief when they realized that there was also an opened red syrup bottle close by on the kitchen floor.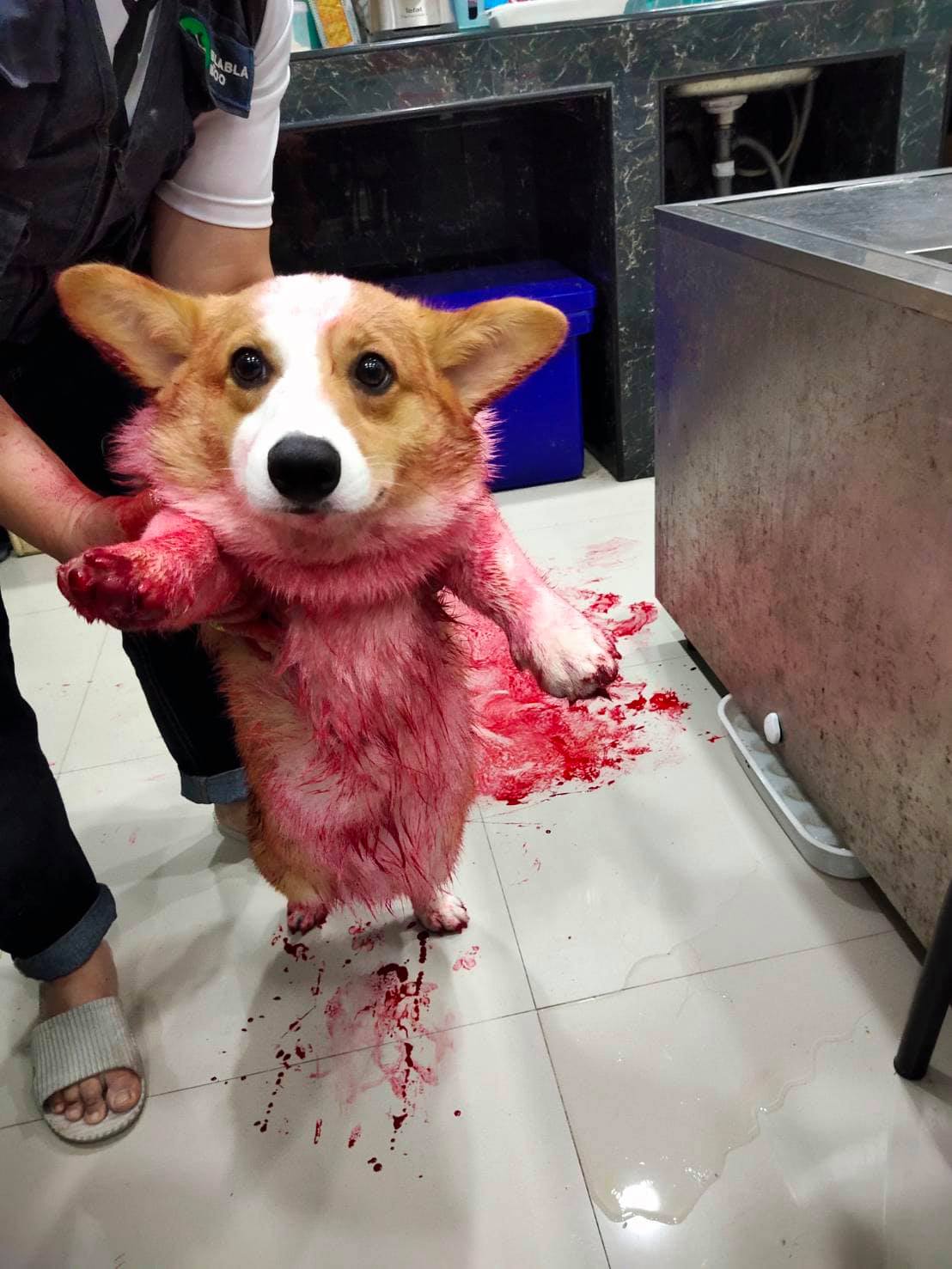 As it turned out, Cartier had a little kitchen mishap and knocked over the red syrup bottle onto the floor by accident. He'd then gotten the red liquid all over his fur and the knife, making it look like he'd been involved in a violent crime. Thankfully, he was alright – just a bit sticky.
The Facebook post quickly went viral after Cartier's owners shared the story, with the photos of the "crime scene" receiving more than 10,000 reactions and 6,000 comments. It was even shared more than 11,000 times.
Cartier is now somewhat of a celebrity, and you can follow him on his very own Facebook page here.
What do you think of Cartier's mishap? Let us know!
Help Rescue Animals
Provide food and vital supplies to shelter pets at The Animal Rescue Site for free! →
Whizzco